Knives Out is the sixth song off of Amnesiac.
History
According to a studio diary kept by O'Brien, Knives Out took 373 days to record, "a ridiculously long gestation period for any song". It was influenced by the guitar work of Johnny Marr of The Smiths, who described O'Brien showing the song to him before Amnesiac was released:
"He explained to me that with that song they'd tried to take a snapshot of the way I'd done things in the Smiths – and I guess you can hear that in it."
Music Video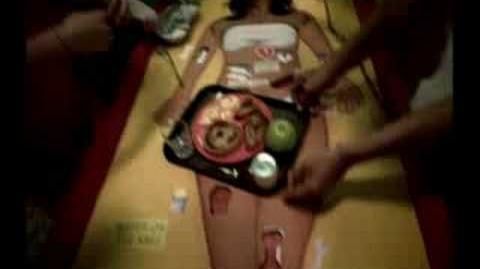 The music video for Knives Out was directed by Michel Gondry. It is highly cryptic, but quite disturbing throughout. It follows a story of Thom Yorke and a woman in a sort of hospital room, filmed by handheld camera. The video is all filmed in one shot, and is carefully choreographed.
Lyrics
[Verse 1]

I want you to know

He's not coming back

Look into my eyes

I'm not coming back



[Hook]

So knives out

Catch the mouse

Don't look down

Shove it in your mouth



[Verse 2]

If you'd been a dog

They would have drowned you at birth

Look into my eyes

It's the only way you'll know I'm telling the truth



[Hook]

So knives out

Cook him up

Squash his head

Put him in the pot



[Verse 3]

I want you to know

He's not coming back

He's bloated and frozen

Still there's no point in letting it go to waste




[Hook]

So knives out

Catch the mouse

Squash his head

Put him in the pot