Daydreaming is a Radiohead song, released as download on 6 May 2016 as the second single from their ninth studio album A Moon Shaped Pool. The song was accompanied by a music video directed by Paul Thomas Anderson. The song is six minutes and twenty-four seconds long.
Music and Lyrics
Daydreaming is an ambient song with a "simple, sad" piano motif, "spooky" back-masked vocals, and electronic and orchestral elements. The song ends with reversed, warped, and slowed vocals; when reversed, Yorke seems to be singing "Half of my life", "I've found my love", or "Every minute, half of my love". Several critics felt the lyrics were coloured by Radiohead singer Thom Yorke's separation from his partner of 23 years.
Promotion and Release
Daydreaming was released as a download single on 6 May 2016 on Radiohead's site and on streaming and digital media services. Anderson and the band sent 35 mm prints of the Daydreaming music video to select theatres inviting them to screen it.
Music Video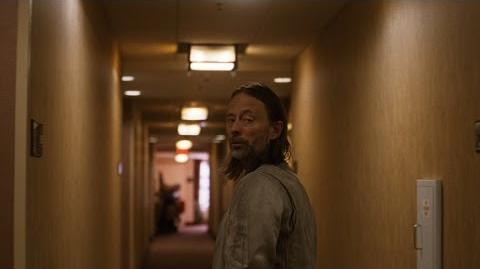 The Daydreaming music video was directed by Paul Thomas Anderson, for whom Radiohead member Jonny Greenwood has composed several film scores. In the video, Yorke walks through a series of doors and passageways leading to various disconnected locations, including a hotel, hospital, laundry, convenience store, forest, beach, hydraulic elevator, parking garage, suburban houses and library, but not really connecting to anyone. He eventually climbs a snowy hill, enters a cave with a fire, and mouths the song's closing words to the camera.
Lyrics
[Verse 1]

Dreamers

They never learn

They never learn

Beyond the point

Of no return

Of no return

Then it's too late

The damage is done

The damage is done



[Verse 2]

This goes

Beyond me

Beyond you

A white room

By a window

Where the sun comes

Through

We are

Just happy to serve

Just happy to serve

You



[Outro]

​efil ym fo flaH

​efil ym fo flaH

​efil ym fo flaH

​efil ym fo flaH

​efil ym fo flaH

​efil ym fo flaH

​efil ym fo flaH

​efil ym fo flaH

​efil ym fo flaH

​efil ym fo flaH

​efil ym fo flaH

​efil ym fo flaH

​efil ym fo flaH

​efil ym fo flaH

​efil ym fo flaH

​efil ym fo flaH